Peter John Reid Painting Classes at 14 Bells

Written by
Cheryl Bell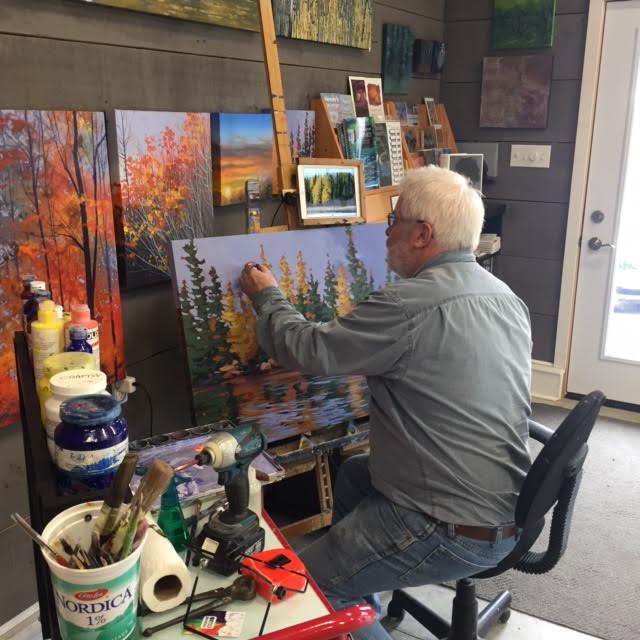 Don't miss this opportunity to learn acrylic techniques from popular artist and teacher Peter John Reid.  Peter will be at the gallery for 3 days in August.  Saturday, August 10th for a public painting demo and then two days of painting classes.  Registration required for classes.  (see details below)
Last summer's Halifax session was sold out so don't hesitate.  Sign up for one day or two.  Different techniques will be taught each day. Peter's students give him rave reviews. 
Student Reviews:
"Years ago I was fortunate enough to take watercolor classes taught by Louise Ryan. But after the week this past August with Peter Reid, I feel that I have been educated in so many facets of painting, so Peter is the best instructor that I have ever had. I hope that I will continue to have other opportunities to study under him."
"Peter is a very talented painter and instructor. When you take yourself too seriously his quick wit and sense of humour relaxes you. He instinctually seems to know when you're elated or frustrated by your own work and is generous with his help and kind in his comments. To be invited to be at class an hour early to watch him paint was a joy. He's very encouraging and I came away with a wealth of new information, colour mixing skills, and techniques. I'm a better painter for taking his class. One needs time to absorb all that he has taught, but in my own studio, it is right there! The class was a joy and a privilege to be a part of. Amazingly, he brings his students all together and I'm sure we left, every one of us, better for the experience of painting under his instruction."
"I would take more courses in acrylic painting with Peter Reid. He's very knowledgeable (especially about colour) and conveys information well."
"We ALL thought that Peter was Fabulous!"
"Great instructor, very entertaining as well as skilled."Peter is very dedicated to the teaching of his craft. He has much experience which he gently shares with beginning painters. His day is a great balance of lesson and practise painting.
The course was very well planned and executed. Mr. Reid is an excellent instructor. His patience, encouragement and humour made it all the more enjoyable.
Peter is an exceptional instructor, his book providing essential details for the course .... he rates 5 * in my opinion! 
The instructor was very knowledgeable and helpful. I enjoyed the fact that there was a book which he followed. I enjoyed it so much I changed my plans so I could attend the second course!!
Peter Reid was excellent. I feel very fortunate to have taken my first art class with someone so knowledgeable. It was a great experience and a lot of fun!
Absolutely fun time , very productive and exhausting
Peter 's knowledge of acrylics is extensive. The format he used to teach, demonstrate, have us work on colours then coaching us was well divided. I also appreciated his sense of humour!
I enjoy Peter Reid's style of teaching, particularly the accompanying book. I have learned a lot about technique that I can apply to any medium.
Techniques - August 11th
Date: Sunday, August 11th, 2019
Length: One Day
Time: 9am to 5pm
Price: $90 plus HST
Canvas Size: 12x12 -
 Description: Techniques - Wet in Wet; Glazing; S'graffito
Plain white, 12 x 12 canvas needed; as well as two 8 1/2  x 11 Dollar Store canvas boards (to learn techniques on). Participants will learn to blend one wet colour into another, for a nice, smooth blend; as well as reflection blends, and then modify with glazes on top of their blend. S'graffito is Italian for drawing in wet paint with a colour shaper. An amazing technique for completing tree noise and field grasses.
14 Bells Gallery
Contact: Bonnie Gardiner
Phone: 519-794-3442
Email: bonniegardiner@me.com (best way to book)
Techniques - August 12th
Date: Monday, August 12th, 2019
Length: One Day
Price: $90 plus HST
Time: 9am to 5pm
Canvas Size: 12x12 
Description: Techniques: Palette Knife, Water Technique, Loose Wet in Wet
Using acrylic paint similar to the method used in watercolour painting, large amounts of water are used to blend one colour into another colour. Using a palette knife, knife work will be explored by laying down a broken partial, interrupted, textured stroke. Please bring a knife similar to the one pictured below; as well as others of your choice. Instructor will have a supply of knives however not enough for the entire class.
14 Bells Gallery
Contact: Bonnie Gardiner
Phone: 519-794-3442
Location: 5523 Young Street in the Hydrostone Market, Halifax NS
Email: bonniegardiner@me.com (best way to book)