Mark Grantham Solo Show 2021, "Between The Heart And The Light"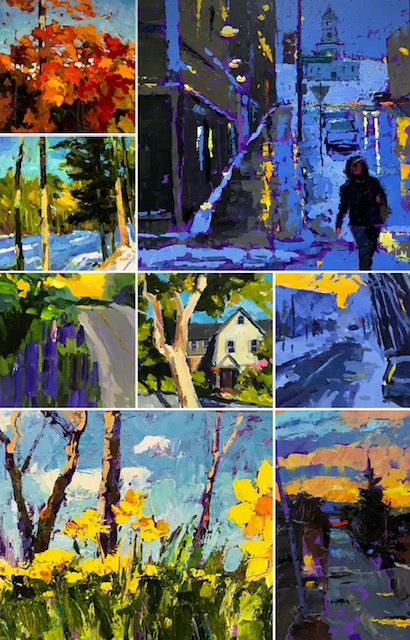 In mid-April this year I stood in the main room of the gallery just taking it all in.  Honestly, I was a little emotional.  I was surrounded by the beautiful solo show from Mark Grantham; his first in six years.  It was the culmination of a journey that Mark and I had been on together for two years.  A journey, for me, that really started over five years ago when I dared to think I would open an art gallery in Halifax.
The first thing I did when I knew I was really going to do this gallery thing was make a list of my dream artists for the gallery. (The gallery history can be traced through a series of scribbled journals and daytimers).  On the first line of the first page I wrote "Mark Grantham".
One day, a few years later, the man himself walked into into 14 Bells. Always humble and gracious, Mark thought it was necessary to introduce himself. "Of course, I know who you are," I said, "let me show you something."  
I didn't contact Mark in the early days of the gallery.  He had recently left a gallery and I knew through the grapevine that he was well represented by his partner Albert Robichaud.  Mark and Albert were trailblazers in online art galleries (Markgrantham.com is 20 years old this year!) and Mark was a popular fixture at the local markets selling his work.  And to be honest, I was probably a little nervous approaching a Nova Scotia art celebrity. 
We had a wonderful talk that first day.  I was sad to learn that Albert had died by suicide a few months previously.  Mark's personal and professional landscape had shifted drastically.  He was open about the trauma of living as a suicide loss survivor.  Albert was not only Mark's partner in life but was deeply involved in his daily art practice, managing the website and sales and even titling the works.  It was understandable that Mark was unsure about his future art plans but it is a testament to his professionalism and strength that he was still painting and showing up at the market every weekend.
Mark and I have spoken often of the that first meeting.  I was thrilled that MARK GRANTHAM!!! was in the gallery and Mark was touched by my journal entry and obvious admiration.  Our working relationship didn't start until several months later when Mark tenatively asked if I had space for his work.  My answer was obvious.  I was honoured that he wanted to work together and that he trusted me to take on some of the tasks that Albert had done for so many years.
Fast forward to Spring 2021 and Mark Grantham, "Between The Heart And The Light" is hung in the gallery and it opens to rave reviews.  Unfortunately the latest Covid lockdown cut short in person viewing but collectors embraced online viewing (and purchasing) and the show was a great success.
The show focussed primarily on palette knife work in both acrylic and oil. While he has moved temporarily away from the more precise architechtural subjects he is known for, viewers immediatley recognize Mark's touch in the new work.  Mark's mastery of light is second to none, bringing the perfect luminance to both a grey Halifax winter and a sunlight dappled garden.
 It really was a milestone for the gallery to host Mark and this wonderful collection.  I look forward to many more milestones together and can't wait to see what is next.
(Current work from Mark Grantham at 14 Bells Fine Art Gallery)