Martin Luther King Jr. Portrait Featured at Neptune Theatre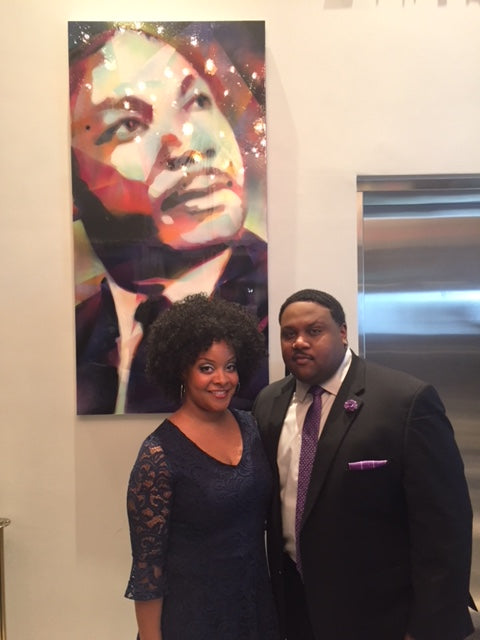 14 Bells Fine Art Gallery was excited to facilitate the installation of a beautiful spray paint and epoxy portrait of Dr. King in the lobby of Halifax's Neptune Theatre.  14 Bell's artist, Fuze, created the portrait to celebrate Martin Luther King day earlier in the year. It fits perfectly with the launch of "The Mountaintop" a moving play about the last day of the celebrated civil rights leader.
I was lucky enough to attend opening night of the show and I highly recommend it.  Letitia Brookes and Tristan D. Lalla hold your heart and mind the entire 85 minutes.  The audience in turn laughs, cries, gasps and cheers.  The director, ahdri mandiela, was charming and gracious and I truly hope we see more of her in Halifax.  Bravo!!
The portrait is for sale at the theatre and a portion of the proceeds will go to Neptune Theatre.
 From Neptune Theatre
A moving interpretation of Martin Luther King Jr.'s final night
On the evening of April 3, 1968, after delivering his speech "I've Been to the Mountaintop," the Reverend Martin Luther King Jr. retires to room 306 of the Lorraine Motel in Memphis, Tennessee. The next day, he would be assassinated. In this moving production by playwright Katori Hall, Dr. King's final hours are re-imagined as he confronts his destiny and legacy as a leading figure in the Civil Rights Movement.
After struggling to find a venue in the US, The Mountaintop premiered in London in 2009 at the 65-seat Theatre 503. Premiering to critical acclaim, it was transferred to the Trafalgar Studios in the West End. It won the Laurence Olivier Award for Best New Play, making it the first play written by a black woman to win the award.
In September 2011, the play premiered on Broadway starring Samuel L. Jackson in his Broadway debut, and Angela Bassett as Camae, met with both praise and controversy for its depiction of King.
This production of The Mountaintop was produced by Neptune Theatre and Black Theatre Workshop. It premiered in October 2017 at the Segal Centre for the Performing Arts in Montreal.
2018 marks the 50th anniversary since Martin Luther King Jr. was assassinated.