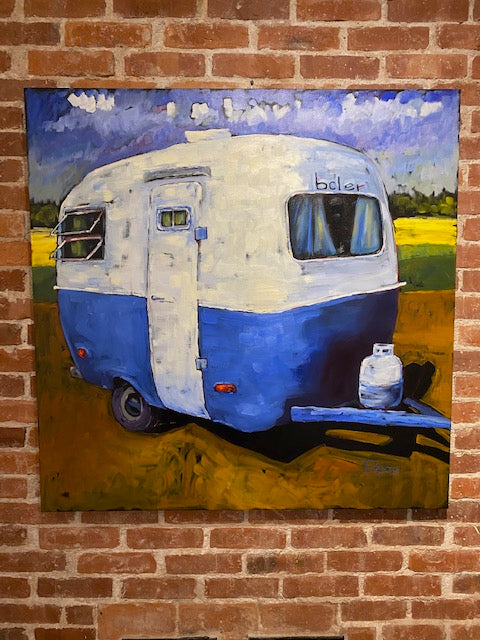 When Nova Scotia artist Lisa-Maj Roos pitched an exhibition featuring paintings of vintage trailers I thought, "how much interest could there be in trailers?"  Well, apparently, a lot.  I went down the internet rabbit hole and found forums, Facebook pages, you-tube videos. hashtags and websites devoted to Airstreams, bolers, Travelaires, Shastas and Rving in general.  This is a thing.
I was intrigued by Lisa-Maj's boler paintings especially. I've seen these egg shaped cruisers on the highways over the years but I didn't know anything about them.  So I spent some time researching these quirky caravans.(spoiler alert; now I want one)  
The boler (always lowercase b) was invented in Winnipeg, Manitoba in 1968 by a used car salesman named Ray Olecko. (It was the artist, Lisa, herself born in Winnipeg, that told me of the boler's Canadian connection) Elements of the origin story are hotly debated online.  Some claim the lightweight trailer was named boler because it resembles a bowler hat.  Others claim it was named after a previous invention of Olecko's, a hand held fibreglass slingshot, also named Boler (capital B this time).
An estimated 10,000 13 foot fibreglass bolers were manufactured between 1968 and 1988. They originally sold for around $1500 and were very popular because they could easily be towed behind a 4 cylinder car.The large majority are still on the road and there is a community of enthusiasts who spend thousands of dollars restoring and customizing them. A fully restored boler can sell for as much as $15,000 CDN today.  In 2018 there was a gathering of boler owners in Winnipeg to celebrate the 50th anniversary of the trailer.
I have just touched on the mystique and appeal of the adorable boler.  Here are some websites where you can learn more.  Much more. And please check out the art at 14Bells.com.