A Successful Paint the Hydrostone Weekend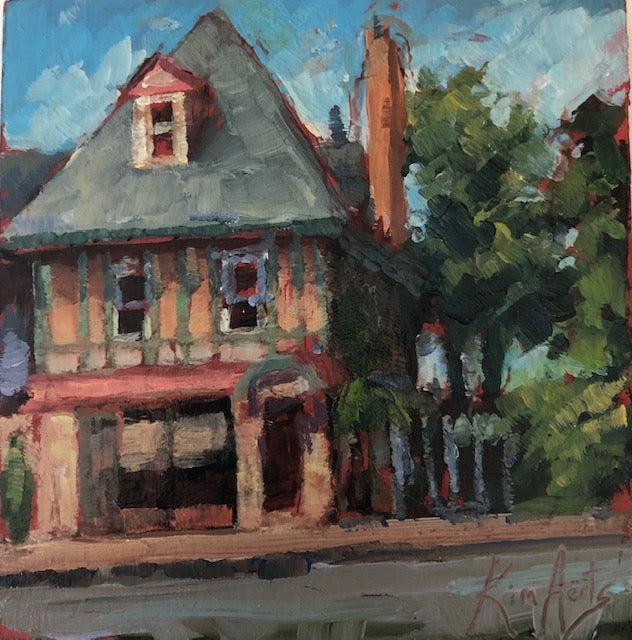 The third annual Paint the Hydrostone plein air event was a great community event this year. The Hydrostone Market was hopping on Saturday the 14th and Sunday the 15th.  Eighteen artists spent the days creating an amazing and diverse collection of paintings. Thank you to the amazing artists who committed their weekend to the cause; Kim Aerts, Rhonda Barrett, Gilles Boudreault, Tabatha Cass, Mary Doane, Cheryl Flemming, Trudy Fong, Alison Grapes, Alexander Koltakov, Karine Lahaie, Rhonda Marineau, Kelly Morrison, Debbie Mosher, Richard Mulroy, Suzanne O'Callaghan, Jack Ross, Eman Shirazi & Nicole Wells.  28 paintings were sold and $1440 was raised for Brigadoon Village.
It was a real community event and it was wonderful to see so many friends and neighbours in the park and in the gallery.  A few were lucky enough to take home a painting of their very own Hydrostone home.  The businesses of The Hydrostone Market generously donated items to a raffle gift basket and ticket sales helped us beat last year's total.  Thank you LK Yarns, Props Floral, Made in the Maritimes, Liquid Gold, Uptown Salon & Spa, Lady Luck Boutique and Rusty Hinges for getting into the spirit of the weekend.
I can't wait to do it all again next year!