Monika Wright, SCA receives Mary Pratt Crystal Award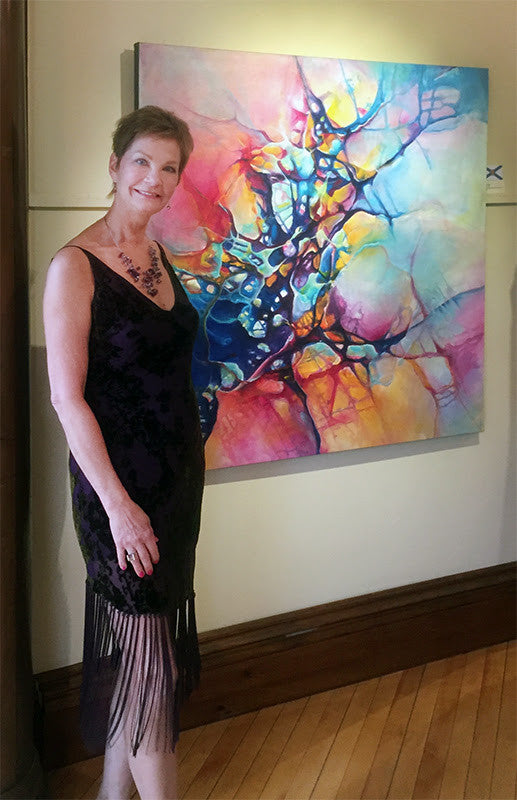 The Society of Canadian Artists presented a very special exhibition of Elected Members' work in honour of Canada's 150th Birthday, "O Canada, Our Home & Native Land", at the spectacular Gallery 78, in Fredericton, New Brunswick. 

The SCA, founded in 1957, promotes diverse artistic excellence across Canada with juried exhibitions taking place throughout the year.

Mary Pratt is an honorary member of the SCA and one of Canada's preeminent artists, a member of the Royal Canadian Academy of the Arts and recipient of nine honorary degrees from various universities throughout Canada. Her work is exhibited extensively in museums and galleries both nationally and internationally. Her selection of "Loyalty to the Earth", a non-representational painting by Monika Wright, is indeed high praise for the art work. 

Ms. Pratt's comments to the SCA about her selection for this prize focus on the aesthetic and emotional response she had to Monika's painting, "'Loyalty to the Earth', what a wonderful idea for a painting. Such a sentiment could only be expressed abstractly, and I think Monika has treated the idea with enthusiasm and love. Congratulations. A fine and subtle painting." 

Karin Richter, Director of Exhibitions for the SCA, explained to the crowd attending the opening reception at Gallery 78 on June 16th: "When jurors choose work for inclusion in an exhibition, they look for technical proficiency, good design and composition and a message. Choosing artwork worthy of an award is a much more difficult task. Jurors now look for work that speaks to them, that touches them on an emotional level." 

Monika's painting, a 48"x48" acrylic work on canvas, was created with the intent of promoting living each day with an awareness to the difference we can make for a better life on this planet we share with one another. Acutely aware of the ties that bind us as a result of her travels to the far corners of the world, Monika knows in her heart, that there are solutions to these problems people have created throughout the past. "The future holds promise, if we recognize our loyalty to the earth and act responsibly."

Monika creates her fluid, abstract paintings in her studio in Nova Scotia, Canada. Her work is exhibited throughout the country and has been included in collections in Canada, Australia, the USA, Spain, Uruguay, Argentina and Germany. She is represented by Crescent Hill Gallery, 14 Bells Fine Art Gallery, Trinity Galleries, Teichert Gallery and exhibits regularly throughout the country.