Iconic candy featured in art exhibit at 14 Bells Fine Art Gallery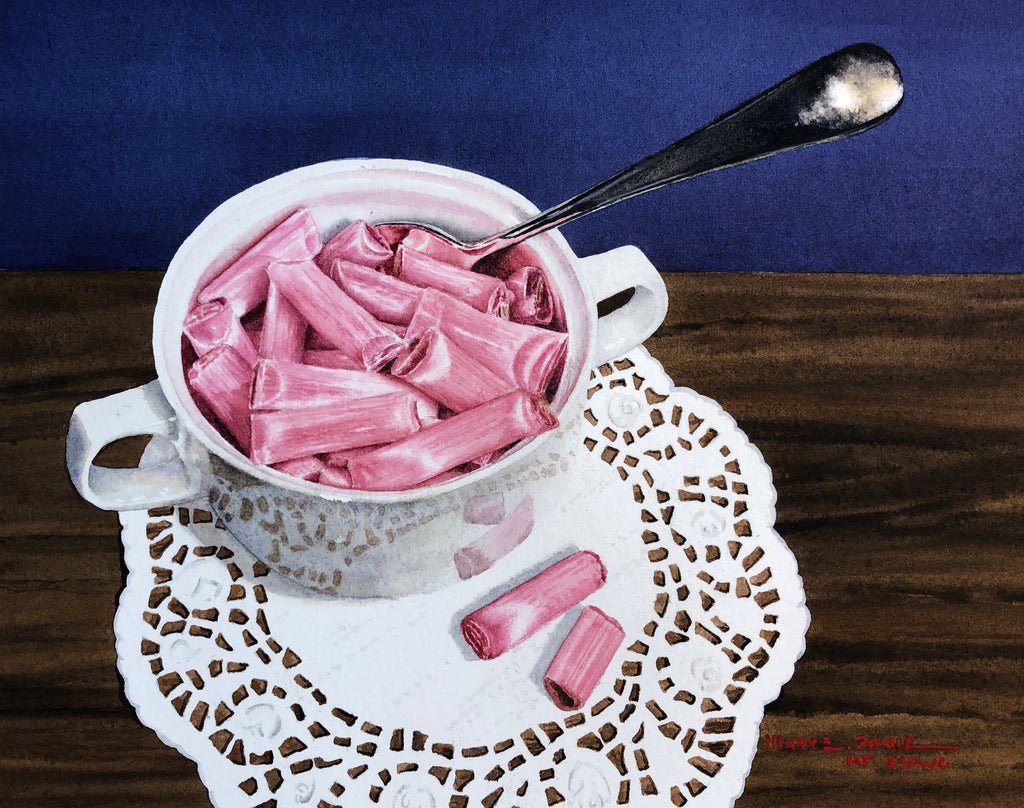 When Nova Scotia artist Mary Doane dropped off her contributions to this month's group show, DELICIOUS,  it included a cheeky little painting called "Chicken Bone Soup."  I had seen these candies before but I didn't know their story. A google search brought up this excellent article by Julia Wright of the CBC.  Link to her original story here.
Maritimers take Chicken Bones for granted — elsewhere, they raise eyebrows
People have surprisingly strong feelings about Chicken Bones. 
The pink, cinnamony candies with the bittersweet chocolate filling have been a Christmas staple on the East Coast since 1885.
Mention Chicken Bones outside the Maritimes, though, and you're likely to be met with confused stares.
The poultry-inspired name, and the sweet-and-spicy flavour, are "polarizing," according to Bryana Ganong, CEO of Ganong Brothers.
 "It's very different," Ganong said. "There aren't many cinnamon-chocolate combos, [but] people who like that flavour combo really love it. People really have an emotional connection to them."
 Finding out how the oddball candy got its name, and how it reached such cult status, requires a look back at its long history.
Candy-pulling hotshot
 An American candy-maker named Frank Sparhawk arrived over 132 years ago in St. Stephen to take a job that a Ganong had advertised in the Baltimore papers.
 Sparhawk was a slight, mustachioed hard-candy specialist who, it was claimed, could pull 550 pounds of stick candy a day — 200 pounds more than the average worker.
He was also, according to David Folster's The Chocolate Ganongs of St. Stephen, an artist capable of hand-crafting confections decorated with intricate pictures and even written messages.
The late 19th century was the heyday of hard candy, with candy companies vying for attention with creatively named products like Doo-Doos, Cat's Eyes and Black Jacks. 
Ganong Bros. was releasing up to three new varieties every month, which would then be retired and replaced.
 Sparhawk rose to the challenge. Chicken Bones were one of his many creations for Ganong.
 "Apparently, he was quite talented," Bryana Ganong said.  
No bones about it
 Why Sparhawk went with the name "Chicken Bones" — or how, for that matter, the candy has become so inextricably linked with Christmas — is still a mystery.
 "There's been a lot of speculation about how they were named, although they do look a little bit like a chicken bone with the chocolate inside," said Ganong. 
'People say things like, 'The holidays aren't the holidays without Chicken Bones.''' 

- Bryana   Ganong , president and CEO of Ganong   Bros . Ltd.
 The process hasn't changed much since the 19th century. 
  The hard candy is cooked in copper kettles, allowed to cool slightly, then hand-mixed with flavour and colour.
 "You have this huge, big, pink piece of candy on a table," said Ganong. "Then the bittersweet chocolate is spread on the top, then it's rolled over like a big jellyroll."
 As the oversized mega-Chicken Bone gets turned in front of a flame, a candy maker hand-pulls it into a thin rope with the right amount of chocolate in each piece.
 "The candy makers who do the Chicken Bones are artists — they're craftsmen," Ganong said. Only three workers in the plant are trained to make Chicken Bones, which is seen as position of prestige. 
 A machine cuts the rope into the traditional rectangular bites that get sold by the millions every year.
 "We're still hand-crafting them today the same way that we did in 1885," said Ganong.
Molasses, peanut butter version
 Other companies have moved in to cash in on the popularity of the iconic candy.  
 Robertson's Candy and Confections, founded in Truro, N.S., in 1928, has made a lower-priced version year-round for "decades," according to owner Paul Furlong. 
In the U.S., the Idaho Candy Company has manufactured a totally different (but equally weird) take on the Chicken Bone involving peanut butter-filled molasses candy coated in toasted coconut. 
 "There are a number of different companies, including one in Quebec, that makes a Chicken Bone," Ganong said, "but their process is a little bit different than ours is, and ours has a brighter pink tone and a real crunch and it's very shiny.
 "When you see them in stores, you can tell that they're different."
 Gotta live here to get 'em
Although Chicken Bones are available across the country, only East Coast residents can be sure of year-round access to the original Chicken Bone.
Maritimers living elsewhere in Canada might have to look a little harder to find them on store shelves or order them online.
At Christmas, "Chicken Bones are by far the biggest seller," Ganong said. "People say things like, 'The holidays aren't the holidays without Chicken Bones.'" 
In 2017, Ganong Brothers Ltd. — the oldest candy company in the country — has all but stopped making hard candies.

Except for Chicken Bones, that is. Love 'em or hate 'em, it looks like they're here to stay.