Donna L. MacDonald Artwork Chosen by Nursing Home to Support Families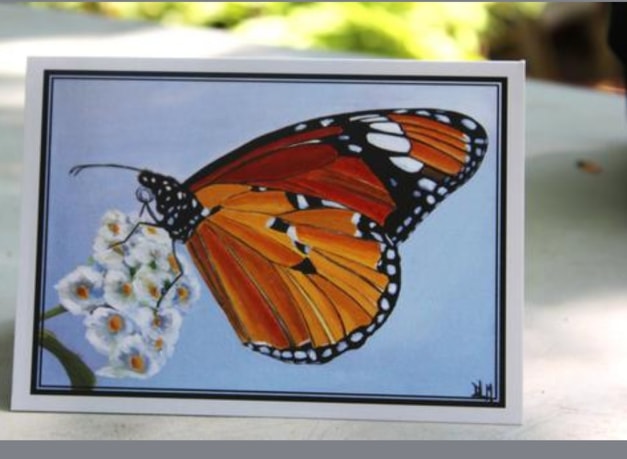 I just love it when the universe matches up the perfect artwork with the perfect client.  The Director of Nursing of a nursing home in Hamilton Ontario recently contacted gallery artist Donna L. MacDonald to purchase some gorgeous art cards.  The cards feature Donna's Monarch butterfly painting.  In Donna's own words;
"Gracious....I am truly humbled. I have shipped 200 of my Butterfly Art Cards to a Nursing Home in Ontario. They are going to give my cards to families who have lost a loved one. They have also asked to use my image for their hospice program. Such an incredibly difficult time for families...I am honoured that they have chosen my work."
The connection is even more fitting as Donna, herself, is a  well respected nurse in the community.  I have met many friends, collectors and colleagues of Donna's over the past few years who are just as complimentary of her kind, caring, humble nature as they are of her artistic talents.  Her heart shines through in her day job and her art.
The butterfly image is purposely chosen for it's symbolism.  Entomologist Regina Cutler Edwards explains;
Butterflies are deep and powerful representations of life. Many cultures associate the butterfly with our souls. The Christian religion sees the butterfly as a symbol of resurrection. Around the world, people view the butterfly as representing endurance, change, hope, and life. There is no doubt the butterfly has significant meanings to us.
Through heartfelt stories, we have heard butterflies symbolizing the passing of a loved one, or life struggles that people have endured to emerge as a better person. We have heard stories from cancer fighters and survivors, people who have dealt with mental breakdowns, heartache, and drug addictions. Butterflies have also been a symbol for celebrations, weddings, life, and our journeys.
Congratulations Donna. Thank you for all that you do.