Cross Border #hashtag Connection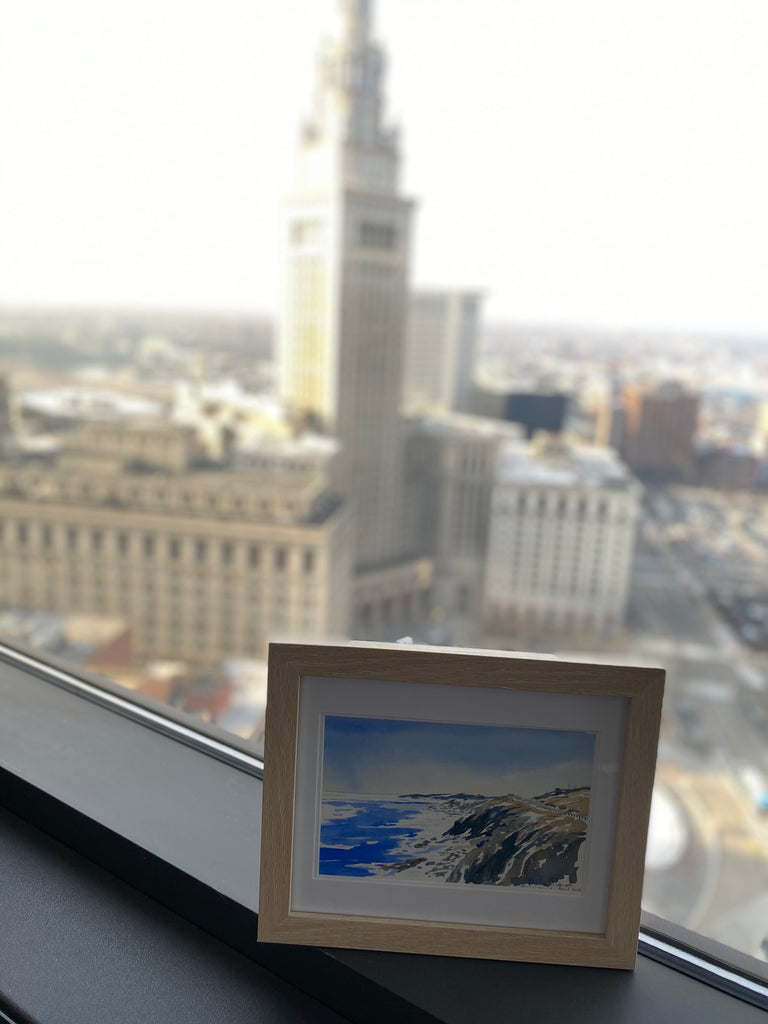 There is no doubt that social media takes up a big chunk of our time.  You can get lost in the endless swirl of nothingness.  But sometimes, good things come from the ubiquitous technology of our age. 
Recently, one little hashtag on an Instagram post led to a connection and an ongoing conversation with an unabashed fan of Canada from Cleveland, Ohio.   Each day I highlight art from the gallery on Instagram #artoftheday.  Early on November 27th, it was a beautiful watercolour by Nova Scotia artist Tom Rand.  It was called "Towards Cheticamp".  I added some of my usual hashtags to the post #canadianlandscape #novascotiaartgallery #halifaxart #hydrostonemarket and a few specific to the piece including #cheticamp.  Within minutes I got this message.
Later that morning Matt and I connected on the phone.  How did a lawyer from Ohio come to buy a painting from Nova Scotia within minutes of seeing it on the internet?  Well, it turns out Matt and his daughters had a wonderful vacation in Nova Scotia this summer and loved the Cabot Trail.  He follows the hashtag #cheticamp so saw the painting right away. Why did you choose Nova Scotia, I asked? Matt has been to every province it turns out.  "I love Canada!" 
How did that come to be?  When Matt was a teen, he tuned in to a radio station across the border out of London, Ontario.  He discovered a little band called The Tragically Hip.  Thus, followed decades of super fandom, with Matt attending concerts across North America.  The Hip didn't fill stadiums in the US like they did in Canada, Matt said, so he was lucky enough to see them in small, intimate venues on many occasions.  His oldest daughter was old enough to attend one of the farewell concert dates in 2016 with her dad.
It turns out the connections to Canada and Nova Scotia just don't stop for Matt.  When I referenced Hugh MacLennan's, Barometer Rising in a recent blog about the Halifax explosion, he emailed to tell me that he wrote his senior thesis on MacLennan and that was the first of his book he read!
I look forward to meeting Matt and the girls on their promised next visit to Halifax, to talk about history, books, art and music.  I especially want to meet the baby of the family, Josephine, named of course, for The Tragically Hip song "Goodnight Josephine." #newfriends #thehip #ilovecanada
I would suggest that Canadians adopt Matt, but he is just as enthusiastic about his own home as he is about his northern neighbour.  I have an open invitation to visit Cleveland and to check out the city and the Rock and Roll Hall of Fame.  The invitation was extended to me, but I think, with what little I know of Matt, if you told him you were from Nova Scotia, you would be welcomed too.