Art & Comfort Food by Suzanne O'Callaghan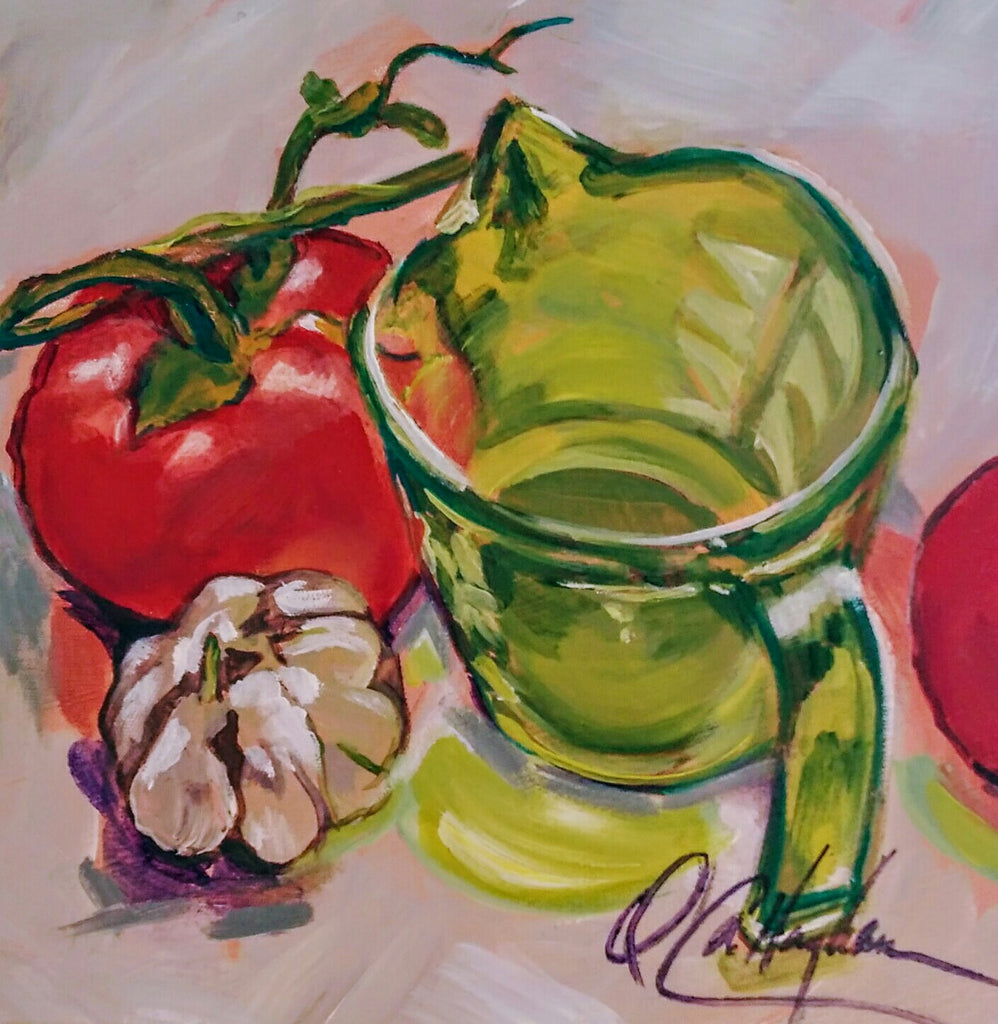 There are many variations of this Roman favourite, but if you are looking for the version that is unerringly reliable and quick, that will impress guests, a first date or provide some self-care with love leftover, this pasta dish is simply the best.  I learned to make this while art directing in Rome in the late 1980's and years later my cooking wizard son, Connor, began making it, too, on a snowy Valentine's day.  In North America we often make the mistake of adding too much sauce relative to the amount of pasta.  The purpose of the sauce is as red paint is to my palette: it is to highlight, not saturate, the composition, to excite (to be a feast for the eyes and to make your mouth water) and to sit atop a quality substrate (the pasta is to it's sauce as a fine canvas is to a painting so buy the best you can afford).  To achieve the right amount of sauce and pasta ratio always begin by ladling a little of the sauce to cover the base of a wide, warmed pasta bowl, then add a layer of the pasta, another ladle of sauce and so on, finishing with a little more sauce on top.  This way when your Italian feast is served up everyone at your table gets just the right amount of both, with a little sauce left to wipe up with a slice of toasted sourdough (or your favourite bread).  Long, skinny pastas like thinner sauces; shorter, chunkier pastas prefer thicker sauces. For this recipe I like farfalle.  It's elegant and those pretty bow ties make for perfect sized bites, catching just the right amount of sauce with every one.  The result is clean comfort food. (Some people use tortellini, which I think much too heavy for this, or fusilli, which I find less satisfying, but in a pinch - or a snowstorm - either of those will do.) I've written this recipe in a way that makes it suitable for vegans and, depending on your pasta choice, gluten free.  For friends who like a little cheese with their pastas a brick of fresh parmesan on the table is a fabulous addition.  At Sabatini's in Rome we were served a simply baked whole trout for the table ahead of a variation of this dish, finishing with a light, crisp, palette cleansing green salad (Bowie and Madonna both frequented this restaurant in those days and I spotted them eating this!). Recently I served Pasta Raphael to friends with a 2016 Nuggan Estate Alfredo Second Pass Shiraz. Smooth and bold with the most velvety tannins, it was a delicious balance to the tangy artichokes.  There was the dining equivalent of a ticker-tape parade at the meal's end. 
Pasta Raphael
1/4 cup of  extra virgin olive oil
2 large white onions, chopped
2 tbsps of minced garlic (yes, you read that right :)
3/4 tsp of dried oregano, 1/2 tsp of dried basil, 1 tbsp of coarsely, freshly ground black pepper, 1/2 tsp sea salt, 1/2 tsp of red pepper flakes (plus a second little dish of more for the table and plating, if desired), mixed together in a little bowl
2 jars (6 ounces each) of marinated artichoke hearts in oil. Separate and reserve the oil in one little bowl and the hearts in another
1 large can (28 ounces) of whole plum tomatoes with their juice
2-3 handfuls of flat leaf Italian parsley chopped into large pieces (plus some for plating and/or garnish, if desired)
Gently heat the olive oil in a large saucepan, add the onions after about 30 seconds and saute just until they begin to soften (do not brown).  Add the minced garlic.  Stir.  Add the little bowl of seasonings (oregano, basil, pepper, salt, red pepper flakes) to the onion and garlic  and the reserved artichoke marinade.  Stir again and saute over medium-low heat until the onions are soft and translucent, about 8 more minutes.
Pour the juice from the tin of tomatoes into the onion, garlic, seasoning and marinade mixture. Using your hands, gently break the plum tomatoes into generous chunks and add to the saucepan. (Careful! They are juicy and splash! I do this right over the saucepan.) Stir and simmer for 30 more minutes. 
Add the artichoke hearts, break up a little with your wooden spoon, and the Italian parsley to the saucepan.  Stir and simmer for 5 more minutes to further blend the flavours.  
(Art/Foodie TIP:  red stimulates the appetite, so it is a longstanding, well-loved colour for any dining room.  In the late 19th and early 20th centuries it was also the favoured colour for showcasing art on the walls of the salons of Italy, France, Spain, throughout Europe and beyond, a fashion that is experiencing a revival around the world today! )
The painting that accompanies this recipe:
Acrylic on Gallery Canvas
Available exclusively through 14 Bells Fine Art Gallery