"Artfully Reused" - Chalkboard paintings by Sarah Irwin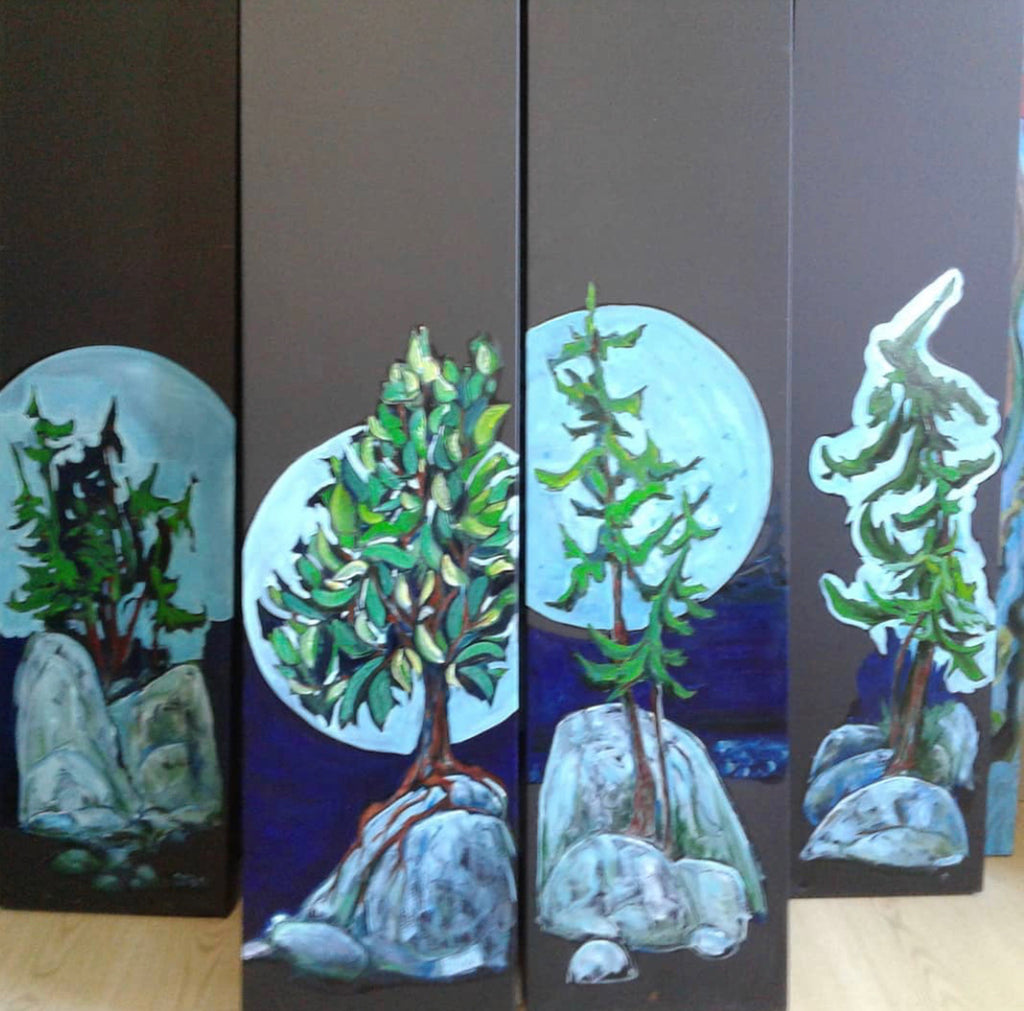 This Friday and Saturday (August 14th &  15th) the gallery will host an art pop up for two very talented Nova Scotia artists. Miro Davis and Sarah Irwin will be here with their indoor/outdoor art.  If the weather cooperates you will find them in the Hydrostone park and on the sidewalk but if not, we will pop the pop up into the gallery.  Either way, it is sure to be a good time.  There are always lots of laughs with these two creative goddesses in the house.  Miro has created a series of one  of a kind ceramic planters to beautify your patio and Sarah will bring these amazing "functional" works of art.
Sarah recently shared with me the evolution of her chalkboard paintings. 
"My friend had gifted me a few truckloads of industrial steel shelving.  Some of them became shelves again while so many more lay stacked in the barn, waiting to be useful.  I needed one for a magnetic postcard display one day and when I put it on an easel this scrap metal became a canvas.  Before long a few of them had followed me into the studio, I must have run out of things to paint on.  After a few experiments into this venture, the common doubt quotes that haunt Artists crept into my head;
 "Why are you bothering to do this?"   "Canvas is much better."  , and "There is no market for these."
So what are they good for, I wondered?  I made a list of possibilities, and chalkboard was on it.
I like the way the oil paint pops off a black surface.  I like that I have artfully reused something destined for scrap. (I love that there are hundreds more squirreled away.)
They speak to a time when chalkboards, like handwriting, are becoming things of the past.
If they entice doodling, writing, love notes, or idea plotting, then I have succeeded."
The chalkboards will be here for two days only so don't hesitate.  They measure 40" x 8" and come with hanging hardware, chalk and magnets.  $295 each.
Ceramic planter by Miro Davis